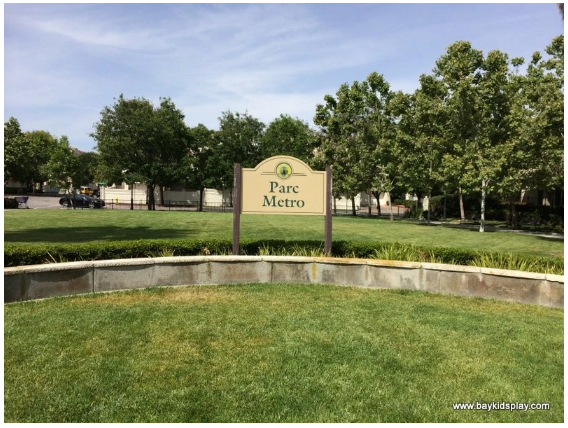 Parc Metro is nestled within the town houses right across from Cinemark 20/Dave and Busters. The park has lots of grass and a few simple but entertaining structures.To get to the parks you have to cross the Great Mall Loop and go towards the town houses you see across from the Cinemas/Dave and Busters. Comet Dr. is the street that you follow to enter the complex. The three parks are not exactly adjacent so you have to walk to each one. Random, but the townhouses are limited to only three trashbags a week and so before residents with extra garbage used to dump their garbage into the public trashcans.

Parc Metro is a cluster of three small parks near the Great Mall of Milpitas. The Great Mall of the Bay Area (often simply called The Great Mall) is a large indoor outlet shopping mall in Milpitas, California built by Ford Motor Land Development and Petrie Dierman Kughn in 1994. It was acquired by Mills Corporation in 2003, and by the Simon Property Group in April 2007. The mall contains approximately 1.4 million square feet of gross leaseable area.The Great Mall of the Bay Area, which opened on September 22, 1994, was developed as a joint venture between Ford Motor Land Development Corporation of Dearborn, Michigan and Petrie Dierman Kughn of McLean, Virginia.In 2016, it was announced that the mall would be undergoing renovation in the spring.


Great Mall, unlike many other malls (but like most Mills malls), is a "flat" mall and the 2nd largest mall in northern California — it has only one story but takes up a large amount of land. The mall is currently laid out in this fashion because the existing main structure used to be a Ford automobile assembly plant and was not designed to serve as a shopping center.Various major retailers are represented in the mall, including Home Depot, Off 5th - Saks Fifth Avenue Outlet, Marshalls, Sports Authority, Dave & Buster's, Sears Appliance Outlet and a new Last Call Neiman Marcus clearance center. The mall used to house a Vans Skatepark which closed in 2004 and was replaced by Kohl's. In addition, it houses a Century Theatres multiplex with 20 screens.Based on gross leaseable area, the Great Mall of the Bay Area was once the largest mall in Northern California, but has now been surpassed by others. It still remains the largest outlet mall in Northern California, but not all of its stores are outlets. Great Mall also has a food court, which can be accessed through Entrance 4.