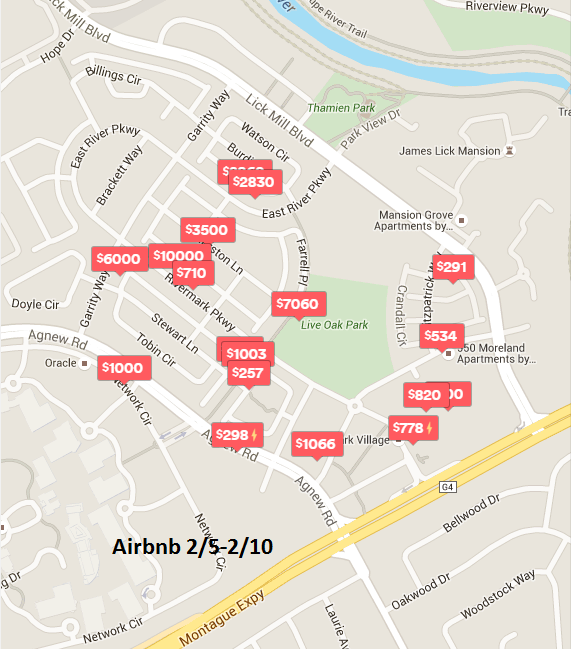 There's a luxury 8,500-square-foot home in San Jose, California, listed for $10,000 a night. A 400-square-foot cottage in the same city is going for $3,900 for the three-night weekend. A four-bedroom apartment near San Francisco's "Super Bowl City" is listed at $1,495 a night, with a minimum six night stay.
Santa Clara has 86 percent more listings for the bowl weekend than for other weekends in February. Prices are up 19 percent.

Paul Arys is a homeowner who can shoot for the moon. He and his wife Laura Hernandez, who live about a 5-minute walk away from the stadium, have listed their two-bedroom house for $2,000 a night. The usual rate is $100 a night for a bedroom, or $500 for the entire house.

Judie Ciesla, an experienced host on Airbnb, recently helped Cyndi Chong and her sister list for the first time a two-bedroom home five blocks from the stadium. The house can sleep six and is priced at $700 a night, with a four night minimum.

Rivermark is of only 10-minute walking distance of Levi Stadium!
About Rivermark
Rivermark of Santa Clara is a master planned community in Santa Clara California, built on a 152-acre (0.62 km2) parcel formerly owned by the State of California. The community comprises retail space, parks, school, apartments, condominiums, townhouses, and houses (detached single-family homes). The Rivermark area is an upscale neighborhood, with many young professionals and families as residents.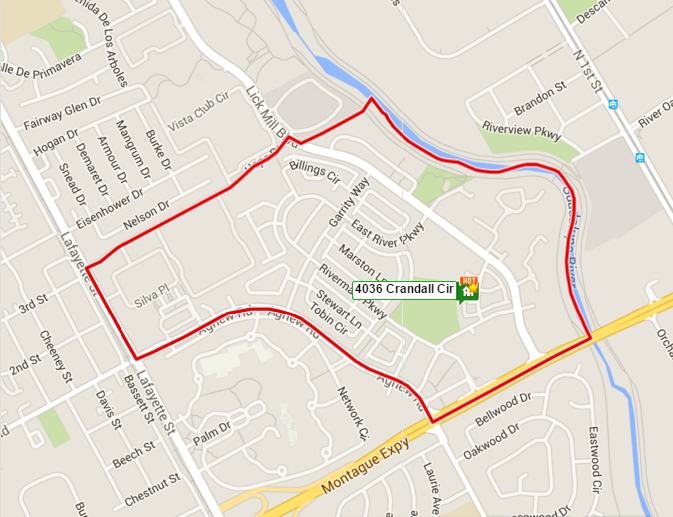 Rivermark began its development in September, 2000. Developers of Rivermark have won several national design awards for their contributions to various facets of the Rivermark master planned community, including Grand Award for Master Planned Project of the Year (2004) and Grand and Merit Award from Builder magazine in 2003.
Rivermark represents a significant portion of the City of Santa Clara's push for growth since 2000, having contributed to the city-wide demographic shifts from half white to minority-majority within the following decade.

Rivermark Homes
The asking price of homes for sale in Rivermark of Santa Clara has increased 42.5% sinceDecember last year, while the number of homes for sale has increased 300%.
Rivermark Schools



According to GreatSchools, Don Callejon School is the highest rated public elementary school in Rivermark of Santa Clara. Don Callejon School is the standout public middle school, and there are no public high schools.

Most Recent Parents Review:

"We liked the infrastructur,teachers,the overall curriculum,the effort of each and every staff member.Our daughter is going to this schoolfrom last 2 years.We have seen the sincerity,patience and hard work of all the teachers.They create an atmosphere in the class that encourages all the students to study and understand the curriculum better.They do social study projects practically so that students can go through a hands on experience. They encourage students to participate in all extra curricular activities International day,sports,art exhibition, young author contest etc.Overall we have a very good experience in this school."
Why Neoghbors love Rivermark?
Family Friendly. Clean. Safe. Well Maintained. Beautiful. Convenient. Walkability. Diversity